SF CoFounders Meet up in San Francisco
First Co Founders SF meet up took place Oct 11, 2012 at Soda Popinskis in San Francisco
CoFounders SF is a new meet up group started by Logan Shedd and hosted by Stefan Broda. Logan is a Massachusetts  native who owns and operates various non tech businesses in San Francisco. Logan is launching a tech start up but ran into a common problem like so many start up hopefuls… locating a talented co founder. He decided to organize a Meet Up in order to hopefully find his tech match as well as help others.
Members are invited to identify themselves as founders, cofounders, non technical, and technical. In hopes of wooing a mate, the member stand in front of an eager group of hopefuls and give their best 60 second pitch!
Meeting Agenda:
6-6:45 Mingle, d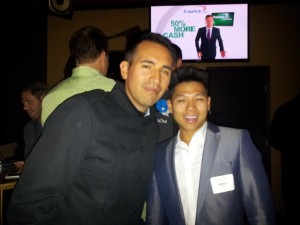 rink and eat
6:45-7 Greetings from Hosts
7-7:30 Round the room introductions of idea, role and yourself! 1 minute each.
7:30-7:45 Presentation and Q/A
7:45-8 Close meeting. Talk about next, ideas, feedback, et
Tempted to attend but have no idea what C++ is, no worries!!! There were non technical start ups eager to expand. One that caught my attention was founded by Antonia Townsend. TheEnclosed.com is taking a new approach to underwear! Antonia's new start up ships luxury knickers monthly! A whole new way to say "I LOVE YOU"! I doubt 1800Flowers.com will be adding this service so you better stick with TheEnclosed.com
Graham Hunter was knighted as "All things meeting", meaning he will keep record, attendance, smile, as well as shoot out a few tweets, which is fitting seeing as he is head of a start up marketing firm . Visit Grahamhunter.org
Looking forward to seeing the relationships blossom from this meet up!
Contact 
Start up Star of the event TheEnclosed.com founded by Antonia Townsend
Lets connect! Post brought you by the real Liberty Madison courstesy of Life with Technology
More on tech, science, and start ups Follow @lifewtechnology
About The Author
Related posts