Ultimate Guide to #TheDigitalDate! Valentine's Day Edition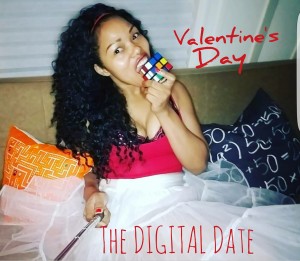 FREE Ultimate Guide to #Valentine's #TheDigitalDate
#Technology to keep the ❤ alive!
Valentine's Day: Guide to #TheDigitalDate!
By #ThatTechGirl
@LibertyMadison
Many turn to Technology to keep love and crushes alive!
Whether you use technology to stalk your crush on Instagram or find your long lost high school boyfriend on facebook. Technology is the best way to bring young love together if you cannot physically be in the same space!
#ThatTechGirl, Liberty Madison, known as the Oprah of Silicon Valley, developed The Ultimate
Guide to #TheDigitalDate.
Introducing the Digital Date!
You: WTF is a digital date?
Me: Keep Reading
You: Hurry up
Me: Ok calm down, here you go!
But why a Digital Date?
A digital date keeps your budding romance in bloom! No seriously it gives you the opportunity to fall in love with your operating system, you literally begin to develop feelings or someone you cannot physically see or touch.
It also saves time, money, energy, frustration, and It keeps your IG crushes happy!! It is a time to be creative, romantic, spontaneous, strategic, and say things you have never said before!
All for the FREE.99!
Warning: Be sure your digital date actually knows they are your digital date because there is a digital footprint. I would hate to see you post your Valentine's date picture and then her husband comments and then geo tracks you,shows up, and now you are on World Star. Not ideal.
Ugh don't you just hate it when that happens.
So let's get into it shall we!
A digital date is a digital footprint of your courtship. An all day text, photo, phone call, social media highlight of your budding love!
7 Steps to #TheDigitalDate

Guide to #TheDIGITALDate
1. Text – Send a minimum of 5 Text! Be sure they are kind, flirty, and positive text. Space them 2 hours apart. Be sure to include heart and smiley face emojis
(Do not text: Hi, Hey, WYD, How is your day, What's up, Hello Under ANY circumstances….EVER)
2. Facebook – Post photos of your date! Post pictures of you and your love on facebook. Add the photo to his or her Facebook Wall and TAG her/him in the post! The Tag is very important. The tag ensures EVERYone can see the post! If that aint a declaration of love…idk what is!
3. Selfie exchange – Take flirty (non nude) photos and exchange pictures throughout the day. Space the photos 3 hours apart. Photos can include your whereabouts. Think cup of coffee and a cute note, gym picture and a cute note, holding a creative sign that says "This sign does not miss you, but I DO"
4. Live! – Get personal! Use a live service such as Google Hangout or FaceTime.
Best to save the Live for the after 8pm- and go for it!
5. Instagram- Take a screenshot of the FaceTime and then POST it on IG AND TAG! Yes I said TAG
6. Send a spotify playlist – Create a custom spotify list. And send it to them via text. Yep go straight mixtape junior high! Don't have one? Follow my Spotify playlist they are #dopeaf @libertymadison on Spotify
7. THE HOLY GRAIL – THE PHONE CALL – The Highlight! Set aside 1 hour to actually talk on the phone. Space this between 9p-11p
Say things from the heart.
Be honest and transparent!
About me: Hi there! I launched Ultimate Guide to The Digital Date: Valentine's Edition on Valentine's Day 2016.
My Digital Date for 2017 is a close long time friend. He is based in Los Angeles while I am based in Silicon Valley. We have busy lives and so we rely on technology to keep us connected.
The Digital Date is the ideal solution!
About The Author
Related posts