Top 10 TECH companies of 2016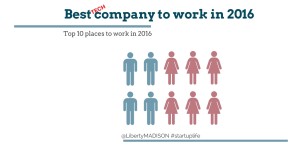 So you are probably like the 5 billion people thinking you need to jump start a career in tech next year?
You have heard the stories that make software engineer look like yesterdays Puff Daddy. Just making it rain with all the cash that is thrown at them. Well you are absolutely right. You too should be choosing a career in technology. It only makes sense everything is digital and with 5 Billion more people slated to get online, its a lot of work that needs to be done here on the inter-webs. More cats to see and eBooks to be sold!
But lets assume you want to work in tech but are unsure of the company you should sell your soul to , well boy do I have a list for you!
TOP TEN TECH COMPANIES OF 2016
Airbnb (#1, 4.6 rating)
Guidewire (#3, 4.5 rating)
Hubspot (#4, 4.4 rating)
Facebook (#5, 4.4 rating)
LinkedIn (#6, 4.4 rating)
Google (#8, 4.3 rating)
Zillow (#10, 4.3 rating)
World Wide Technology (#12, 4.3 rating)
Mindbody (#14, 4.2 rating)
Expedia (#16, 4.1 rating)

For a full list here


#ThatTechGirl is @LibertyMaidson
The #Oprah of #SiliconValley

And I want you!!! To choose #TECHNOLOGY!

Do you millennial who has an idea for a startup?
Tweet me! @libertymadison
About The Author
Related posts