The Beauty of Technology on the Bay Bridge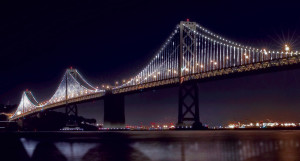 The Beauty of Technology!
Technology and Beauty comes in various forms and world-renowned artist Leo Villareal has found it! He debuts his vision as a stunning fine arts experience that will live for two years on the San Francisco Bay Bridge West Span, starting with the Grand Lighting on March 5, 2013.
THE IDEA:
ARTWORK: The Bay Lights is the world's largest LED light sculpture, 1.8 miles wide and 500 feet high. Inspired by the Bay Bridge's 75th Anniversary, its 25,000 white LED lights are individually programmed by artist Leo Villareal to create a never-repeating, dazzling display across the Bay Bridge West Span through 2015.
THE CONTRIBUTION :
IMPACT: The Bay Lights is a monumental tour de force eight times the scale of the Eiffel Tower's 100th Anniversary lighting. Shining from dusk until 2:00 a.m. for two years, it will impact over 50 million people in the Bay Area, with billions more seeing it in the media and online. By conservative estimates, $97 million dollars will be added to the local economy.
THE LAUNCH EVENT:
7P-11P -MARCH 5 – FERRY BUILDING -SAN FRANCISCO- NO COVER & JUST RSVP FOR THIS EVENT & SPREAD THE WORD!! Don't miss this once-in-a-lifetime opportunity to spotlight Bay Area creativity, innovation and you – one of many bright lights who make the Bay Area the incredible place that it is.
Follow on Twitter because That Tech Girl is ON IT!
Excellent Event for family, friends, lovers,and others! See you there
That Tech Girl!
TAG YOUR PICTURES
#ThatTechGirl so I can see them!
About The Author
Related posts