How to Take a Shower
A shower is one of the most relaxing forms of cleansing and rejuvenation on the planet. It clears energy, clears your mind, and allows you to be totally present. It is your alone time, your think tank,or as I like to call it, my non think tank.
You are alone with yourself. It is you, water, and the present moment. Embrace it.
Many inventors and famous entrepreneurs have come up with multimillion dollar ideas while in the shower. I like to call this a Power Shower. Yes I know you have never heard the term before,I get that. But think of it like this, you could be the next Power Shower Entrepreneur! I coined the phrase "Power Shower" to start you in the right direction.
There is an entire study dedicated to the science of why our best ideas come in the shower. Science often tries to catch up and explain realities of life and they are on the right track this time. It is odd for science to explain something that isn't scientific but I think that they are trying. The experience of the present moment far exceeds our limited scientific explanation. But I'm glad they are attempting to engage and expand your thoughts.
Whether you are Jack Canfield or the guy who sold his million dollar idea to a toy company. You too can have a spark of genius while showering.
Make sure you do at least 3 of the 3 things listed and you could be next POWER SHOWER entrepreneur!
1. Take a shower
2. Shower alone
3. Relax
It is now up to you to ACT on your million dollar idea! Millions of people have ideas few act on them. Don't be that guys who says "Man I can't believe he made 100 million, I thought of that 5 years ago".
Learn how to make your startup a reality?
Go from Idea to Income with Liberty Madison.
I show you how to go from Idea to Income in a few steps!
Join my online webinar or contact me for one on one advising / coaching!
or simply Tweet me and let me know if you thought of me in the shower!!
#ThatTechGirl is
LibertyMadison
The #Oprah of #SiliconValley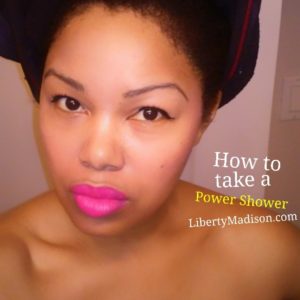 Thank you for taking a step towards the lifestyle you truly love!
About The Author
Related posts