DAL-TILE and Liberty Madison remembers founder Robert Brittingham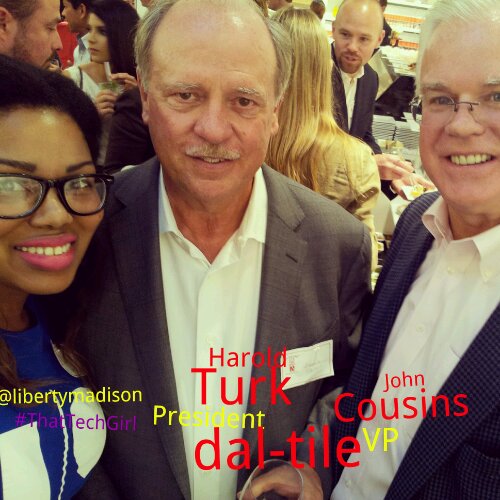 @daltile made my year!  I attended the #sfdesignstudio event with #mohawkgroup + #daltile and I literally cried twice.
The universe gave me a gift!!
I got a chance to revisit my childhood memories with the #president and #vp of Daltile.
#haroldturk and I connected over a shocker!
We both loved and cared for the #founder of Daltile. My mentor Robert Brittingham.
(Bob) changed my families Life. He was/is a visionary. As a child he steered me in the direction towards #entrepreneurship. Yes my Jr high and high-school was shaped by this man. Day in and day out. I sat in on so many meetings of him yelling at these guys, yelling at #jerryjones yelling at the #mayor. He was stubborn but had a good heart. He dropped out of #usc to launch daltile. I remember sitting next to his bed and him saying he would do it all over again. He said follow your dreams and use EVERYTHING you have to your advantage. Whether its #beauty #brillance it just doesn't matter use all of your tools!
I practically lived w this man. He was amazing and to walk down a street I Never go down and see the manifestation of his vision brought me to tears. I walked up and asked if I could speak to a Dal til employee and I walked up to the president! Something kept telling me to go down that street I didn't get it but now I do. Im so thankful to connect with these men and share stories and tears! Remembering a man who changed all of our lives!!
It was so funny they could not believe I knew so much detail and inside corporate information. It was so funny! They paraded me around and I had the honor of meeting more of (MR.B) lovely employees.
I felt like I was finally back in Dallas with family.
Yes living with Billionaires raises the bar and exposes you to a world most would only dream of.
My tips and experience about life is a combination of my time with Robert Brittingham. (MR.B) has been my bar on which to measure success.
A few quotes from him
"A good fight is good for the soul"
"Calculate the risk"
"At times its unethical but do it anyway" (well we differ on that)


"Use everything good gave you"
"Never let one person determine your future, find a way"
He had a vision, launched, grew it to the largest ceramics company on the planet.
I think of my OFTEN
And I miss him. I loved him.
Thank you!
Pictured above is me with Harold Turk (President) and #JohnCousins (#vicepresident)
I bet Mr.B is tripping out. What were the chances of me going a way I don't normally go to run into these men in #sanfrancisco and share a moment!
Its a small world!
MY POST OF THE YEAR!
#rip you are loved.
#LibertyMadison
About The Author
Related posts