Biggest Sales Week for Silicon Valley is AFTER Christmas meet 'New Device Week'
Many are familiar with Black Friday and now Cyber Monday, but few are taking advantage of NEW DEVICE WEEK. Black Friday and Cyber Monday are a cloudy foggy mess of advertising screaming at you to buy their newest shiniest erasable musical toothbrush for your dog. It has become a joke.
Yes we get it, there's a massive spike from consumers demanding goods for whatever holiday they celebrate. The result, is that the advertising and marketing space is more crowded than ever. Holiday marketing is competitive, expensive, and very crowded. We have all but tuned it out on many levels.
But here comes Silicon Valley to rescue!
Tapping an relatively untapped in the industry, and it is mobile – the advertising medium many major advertisers are still struggling to figure out.
If you are a developer or founder of an app you need to keep reading.
#ThatTechGirl gives you the quick run down and shows you why you need to commit to New Device Week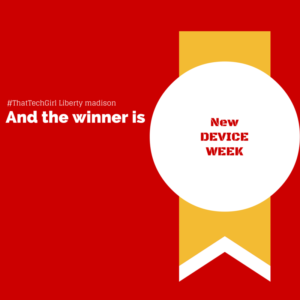 What?
New Device Week
Why?
Millions of smartphones and tablets will be purchased for holiday gifts,but the majority of these will not actually be used until after Dec. 25.
Beginning on Christmas morning and extending through the following week, consumers will be figuring out how to use their new devices and discovering many mobile experiences for the first time.
Your app needs to be the present not the device!
Where?
Mobile
If you have an app this is your Olympics! Time to dig deep and give it all you've got! Your advertising push should not drop off like most hardware or consumer goods. They go "end of the earth silent" after DEc 25, this is a perfect time for you to kick it up notch! Every living room across the country will be filled with a techie or sudo techie giving app or download advice to a mom, dad, sister, brother, girlfriend, or boyfriend. 70% of all sales come from a friend or family recommendation. That is extremely powerful.
When?
December 25- Jan 2
How?
Make an effort to allocate funds, talent, ideas during the week where you have a captive audience. New Device Week. Focus your efforts on New Device Week if you are a software consumer startup, entertainment startup, new media, transmedia, or digital media.
What an ideal week to go viral!
According to Howcrio Bruley, founder at Criotivity a company lauching an entertainment app called Figure of Speech added "Apple isn't accepting any updates between Dec 18- Dec 28, they know it's a heavy download push so you need to be ready". He goes on to note "Your app has to be approved by Apple for sale by December 18 in order for developers to release updates within that window. This also affects updates to Apple TestFlight environment".
MobileMarketer.com goes on to say
If you are a brand looking to drive application downloads, imagine being able to reach consumers at the exact moment that they are looking for apps to populate their new device? If you are a retailer looking to drive customers back to your store for post-holiday and New Year's sales, what better way to reach them than to deliver an offer on a device they will be glued to for days?
The possibilities are endless.
Entertainment advertisers can capitalize on New Device Week to drive consumers to their latest studio releases, consumer packaged goods advertisers can target consumers planning their New Year's parties, and auto advertisers might run tablet campaigns offering interactive "Build-Your-Own" experiences, and present consumers with a mobile ad unlike anything they have seen before.
While new Device Week presents an exciting opportunity for advertisers, what is even more enticing is that most marketers are not budgeting or planning to capitalize on it. So, compared to Black Friday, Cyber Monday or other sought-after holiday days, the week is much less crowded so there are more and better opportunities to reach a target audience.
During the course of Advertising Week New York this year, we spoke with almost 1,000 industry insiders, and only 7 percent had even heard of New Device Week. Of those 7 percent, only 48 percent believed that it was a critical part of their upcoming holiday campaigns. This means that during the most crowded time of the year for advertising, New Device Week presents a real opportunity for advertisers to stand out.
Black Friday and Cyber Monday will be massive shopping days for the foreseeable future and will always be deserving of advertising dollars, but as marketers think strategically about the holidays, it is critical to understand that the holiday season does not stop at Christmas.

New Device Week is
#ThatTechGirl APPROVED
The takeway is "New Device Week" is here to stay and the Gold Ticket for Mobile goods!
Want more techtips? Follow me on Twitter and Instagram
Share your tips! Tweet me at @libertymadison I would love to hear how you landed a new client.
#ThatTechGirl is #LibertyMadison
#StartupLife for the #Millennial and #Transitional
#ThatTechGirl is the Oprah of #SiliconValley
About The Author
Related posts