Believe in your startup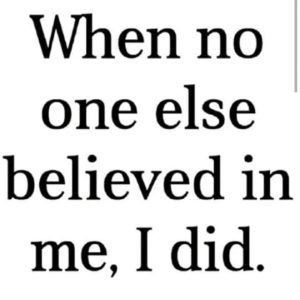 This is most likely the most valuable #LibertyLesson that I can share with you.
I know it's hard and can be lonely but trust me if you know you can accomplish something then go for it!
Being an inventor or visionary can be lonely, mainly because people seem to be wired to only believe what they see. When you manifest it and build a product you will be met with a ton of supporters. Think of it as the stock market. Once you have a product and it is out there and doing great people are ready to hand over their fortune and life savings at your IPO, they just want to be involved. But until that point people honestly just may not believe enough in you or your product.
There is always a small demographic of folks who get extremely wealthy on new products. It is because they take risk and believe in a product. That's it. Many will say it is because they have a disposable income and it's a 'rich get richer' society but I don't see it that way. To me they have a vision and are not counting pennies. Their vision is very simple. They want their money to work for them. They do not want to work for money. So they take risk many average joes just don't take.
This point brings me back to you. Take the leap and believe in yourself. The leap is also very simple. You have to believe in yourself when no one else believes in you. If you do not believe in then you who will?
How to Take the first step to increase your confidence and cement an unshakable belief in yourself?

The #LibertyLesson is
Surround yourself with partners not employees.
Partners vs. Employees
Partners – listen, strategize, contribute, build you up, and most importantly ACT!
Employees – wait for you to take action, wait for you to give them direction, wait for you to give them more direction, and leave all of the heavy lifting to you.
As a result of surrounding yourself with employees you become a manager not a visionary.
Surround yourself with partners and leaders and you become an innovator.
Find your confident partners and believe!
#StartupLife for the #Millennial and #Transitional
#LibertyMadison is
#ThatTechGirl the
#Oprah of #SiliconValley
Want to take your startup to the next level?
libertymadison.com/simplybook.me
About The Author
Related posts